Artist's Statement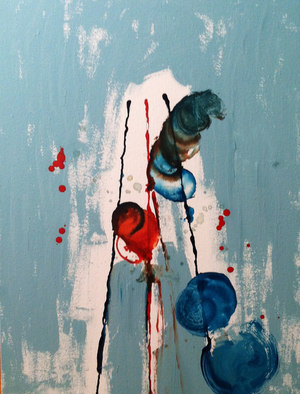 Jess Barnett believes that anyone can create art of some sort, no matter how good or bad they think they are at it. She seeks to empower others with her art by showing them through a mix of seemingly random materials (packing material, wood from the forest behind her house, spray paint, discarded pills, sea shells, ferns, etc.) that everything is up for grabs when it comes to art and no one should feel limited by their own past belief that they have no artistic talent. Jess believes that art heals in a way that few other things do.
Creations include: abstract paintings and drawings; spray-painted objects, using Mason jars, vases, and pieces of wood; glass objects; cards; and paintings involving thread, yarn, and other similar materials
Materials include: acrylic, gouache, watercolor, and spray paint; pencils; cotton balls; rose petals; cosmetics, including lipstick, eyeliner, and eye shadow; discarded pills; fireplace ashes; charcoal; yarn; and thread.
Influences include: Andrew Wyeth; Jesus Rafael Soto; Josiah McElheny; Franz Kline; Francis Bacon; Howard Hodgkin; Dale Chihuly; Stephen Gammell, known best for his illustrations for the Scary Stories to Tell in the Dark children's series by Alvin Schwartz; Japanese minimalist artists; and street and magazine advertising, mainly because of the colors often used to attract viewers' attention
What drives her work
Color. A mix of colors and the way certain combinations light up the rods and cones in her and other viewers' eyes.
People. Analyzing her paintings through others' eyes and learning which colors and techniques create certain effects in viewers. Jess enjoys feedback and hearing what pieces move viewers and which don't. She often destroys paintings by painting over them with white and then painting new pieces over them.
Nature, especially trees. The organized chaos Jess see in trees invigorates and calms her. It drives her to try realistic painting over abstract, which has traditionally been a safer style for her.