Artist's Resume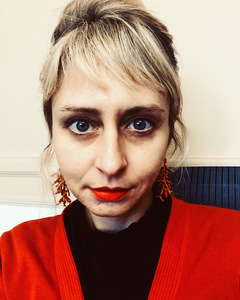 About the Artist
Concord, NH, resident Jess Barnett is a self-taught artist and has been painting since 2004. She is a former member of Artistic Roots, an artists' coop in Plymouth, NH, and recently had a show titled Awakening hanging in Acton, MA. In addition, selected works are now hanging at HOME by Stamm & Black in Acton, MA. She will be displaying an exhibition at 42 Maple Contemporary Art Center in May 2020 and in other galleries in the coming year. In November 2019, Jess also began teaching an art class for minimum- and medium-security inmates at the Belknap County jail in Laconia, NH. Her studio is in downtown Concord, NH; please contact her to arrange a studio visit.
Selected Exhibitions
UPCOMING:
Golden, solo exhibition, 42 Contemporary Art Center, Bethlehem, NH, May 1–May 31, 2020; with opening reception on May 1, 2020
PAST:
MIXMASTER @ The Matt 2020, Mattatuck Museum, Waterbury, CT, January 12–February 23, 2020; with opening reception on January 12 from 1 to 3 p.m.
ENERGY, ArtSpace, Maynard, MA, January 15–February 21, 2020
Art and music show with Dave Seidel, The Triangle Theory, and Petridisch (musicians), Lilypad, Somerville, MA, October 2019
Awakening, Wellness at Villageworks, Acton, MA, May–October 2019
Sky Bowl, group exhibition, Gallery A3, Amherst, MA, August 2019
Visiting artists reception, Artistic Roots, Plymouth, NH, February 2019
Connections, group exhibition, 6 Bridges Gallery, Maynard, MA, July 2017
Informal exhibition, Look Optical, Maynard, MA, May–July 2017
The Hundreds Show, group show, Lincoln Arts Project, Waltham, MA, December 2016
The Landscape of Emotions, group show, Art at 12, Boston, MA, November 2011
TMI (or, Too Much Information), Lilypad, Somerville, MA, May 2010
Past Group Exhibitions and Art Fairs
Beacon Hill Art Walk, Boston, MA
(ahts): The Boston Arts Festival, Boston, MA
South End Art Walk, Boston, MA
South End Garden Tour, Boston, MA
Jamaica Plain First Thursdays, Jamaica Plain, MA
Achilles, Boston, MA
Cambridge Common, Cambridge, MA
Bricco, Boston, MA
Education
Encaustic wax workshop with instructor Kat Masella, Manchester, MA, October 2019
Glassblowing, Diablo Glass School, Roxbury, MA, 2015
Boston University, Boston, MA, BA in Journalism, graduated May 2001
Additional
For five years Jess Barnett served as one of two arts editors for Printer's Devil Review, an online literary and arts journal based in Cambridge, MA.