Artwork Now Featured at HOME by Stamm & Black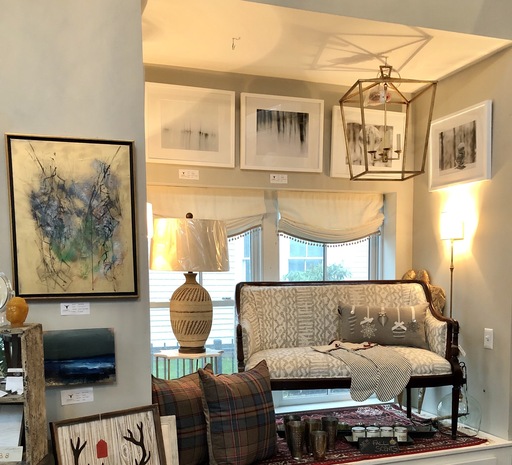 Exciting news: Six of my pieces are now hanging at HOME by Stamm & Black, an interior design and retail store on Massachusetts Ave in Acton, MA. If you're interested in purchasing one of these works, stop in at the store or contact them here. This is a very exciting new adventure for me, and I'm thrilled for this opportunity!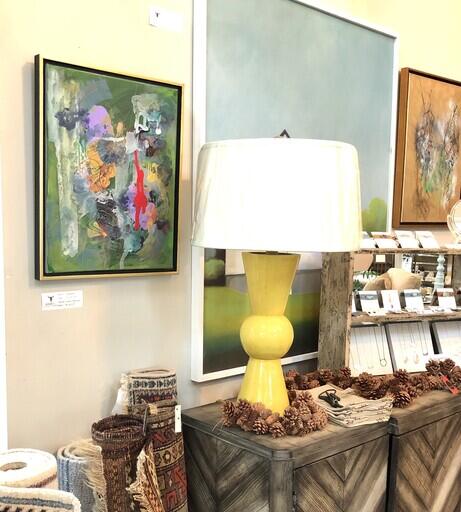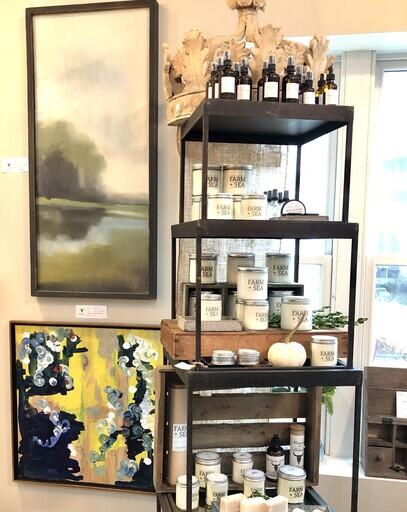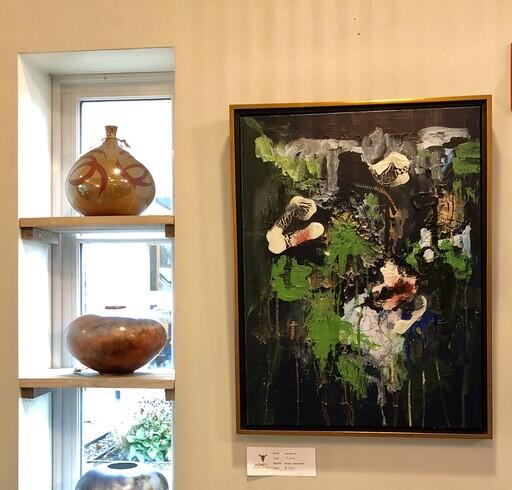 In other news, I've been painting like crazy ... as usual! Please check them out here. Enjoy!
Finally, starting in November, I will be helping teach an art class at Belknap County Sheriffs' Department (the county jail) with Kathryn Field. This is something I've dreamed of doing for quite a while, and it's sure to be quite the adventure. At the end of the program in August 2020, there will be an art show of works created by prisoners during the program as well as works by Kathryn and me. More details about the program to come!
Rent One of My Art Prints at TurningArt.com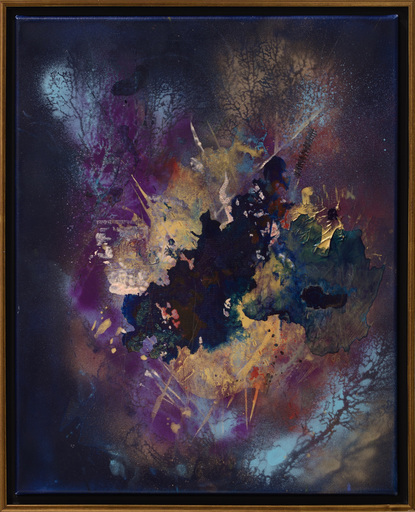 Did you know there's a way to "rent" art? Just as Netflix used to send out DVDs, TurningArt mails out art prints that you can rent for a month or for however long you want! Please check out my page on the site!
Acrylic and Pokeberry Ink Pieces for Sale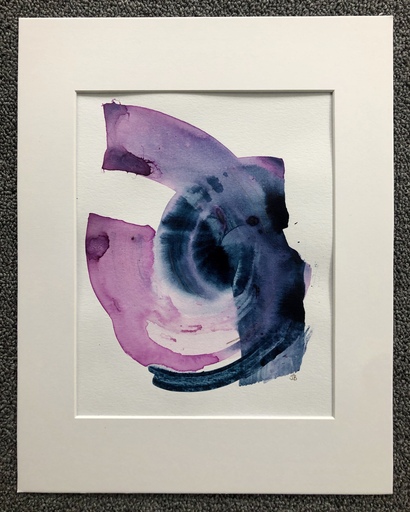 I finished some new original works made with acrylic ink and pokeberry ink, and they are up for sale on my site! Visit the gallery
Ink and Pokeberry Works
and scroll through to see each piece. Each is $35, with free shipping (for all U.S. states except Hawaii and Alaska). Please check them out!
Buy My Cards at Fifty Home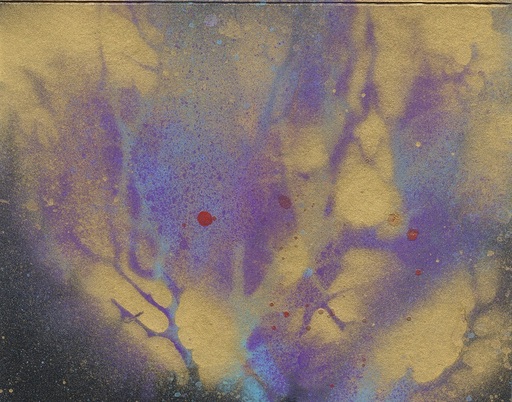 Exciting news: Printed cards in selected designs of mine are now available at
Fifty Home in Concord, NH
. If you live in the area, stop in and pick up one or two. Supplies, as always with prints, are limited.
Art (Me) & Music (Petridisch, Dave Seidel, Triangle Theory) @ Lilypad, October 8!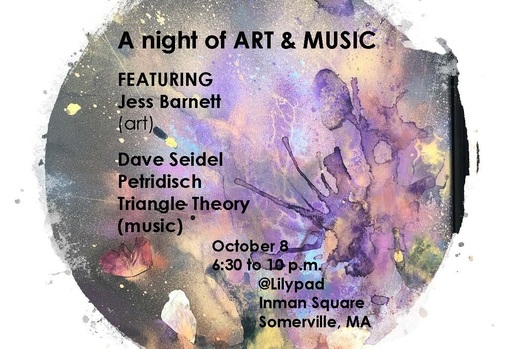 This show is coming up SOON! (in less than 2 weeks!)
Please come.
Check the event link at and RSVP here.
This Week's Art News: Album Cover, Art/Music Show in Oct., New Pieces Up for Sale, and More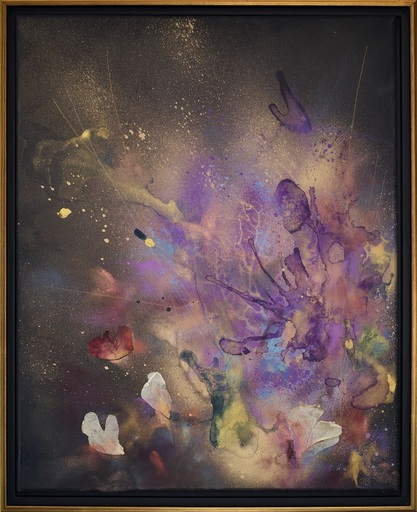 Lots of news!
I am BEYOND excited to be included in Petridisch's and the Triangle Theory's upcoming show on October 8 at the Lilypad in Somerville! PLEASE COME! There will be an art reception before the live music, and I'll be showing the painting that Cody Maillet is using for his Triangle Theory release. The Facebook event link is here. Can't wait for this!
The album cover painting is finished! See the photo above and the ones below for detail shots of it.
Horsehead and Speed of Light (below), both pieces from the Dying Star series, are now available for purchase online. Click here to view Horsehead and here to view Speed of Light. Bloodlines, a departure from Dying Star, is also available here.
My collage card class has been rescheduled for September 14 at 2 p.m. Sign up online at Artistic Roots' page!
Thanks for looking!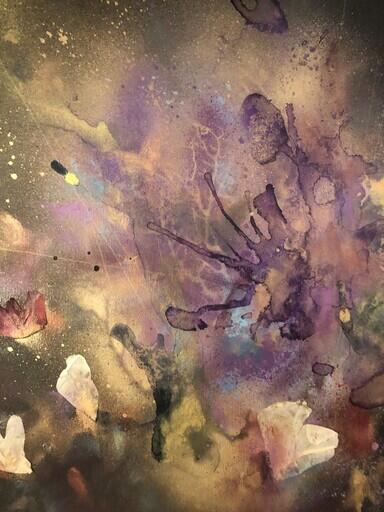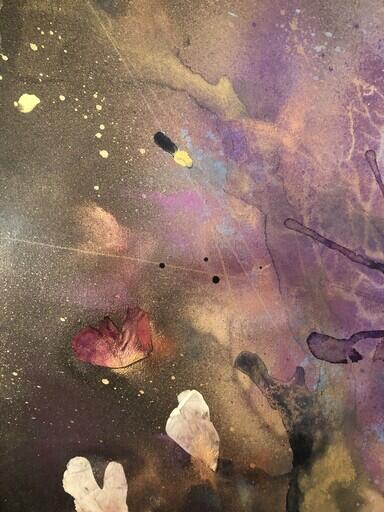 Shockboxx Reception Featuring "Violaine" Next Saturday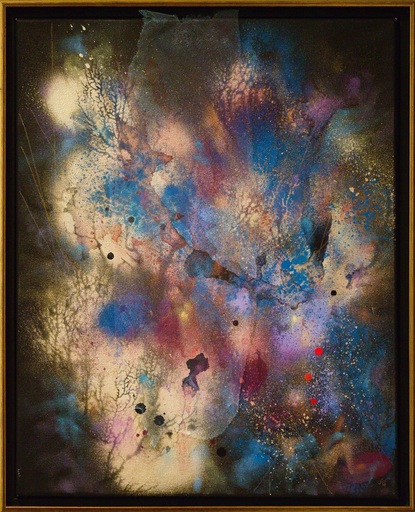 Hi everybody! The reception for the Shockboxx show (which my painting Violaine is in) is next Saturday from 7 to 9 p.m. in Hermosa Beach, CA (click on link for more info). If you're in the area, please stop by to see my piece and all the other great ones in the show! Wish I could make it myself, but I'll be trapped on the East Coast.
The painting of mine that will be hanging in the show is here.
Lots of News! New Exhibition, New Pieces, PayPal Buttons, and More!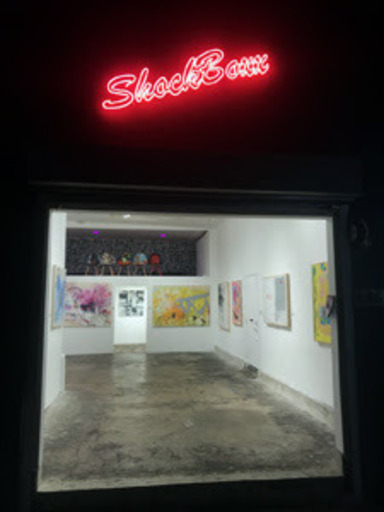 Some big August news:
1. My piece
Violaine
has been accepted into a September-October show called the
Shockboxx Project
in California! I'll be shipping the piece out in early September for inclusion in the show.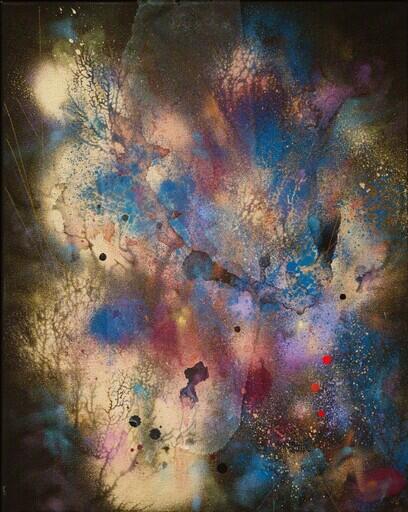 2. My friend Thor Maillet of
Petridisch
is using prints of several of my pieces in an upcoming limited edition cassette release. The
show promoting the release
is happening on October 8 at the Lilypad in Somerville, MA. Two sneak peeks are below: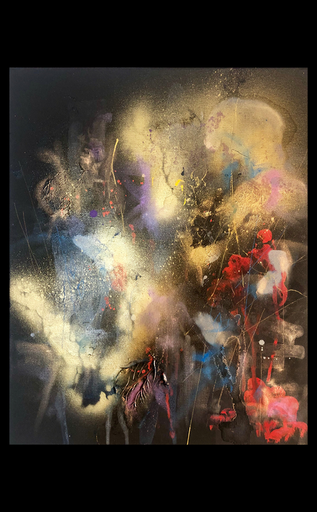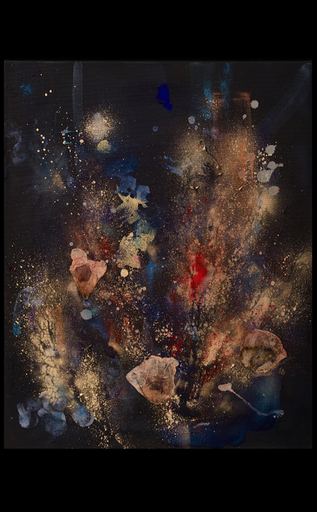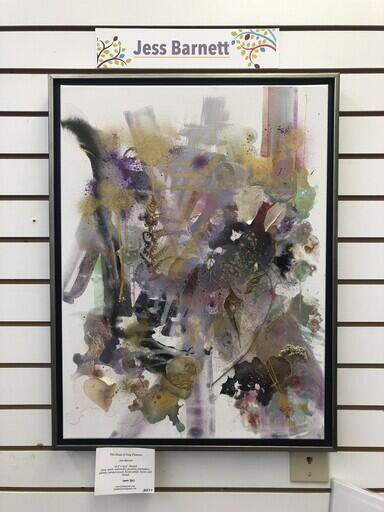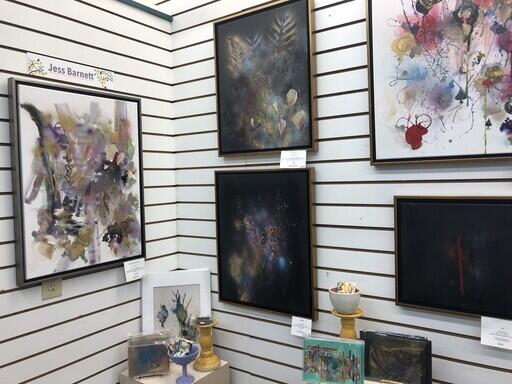 4. I have finished some new pieces! Enjoy.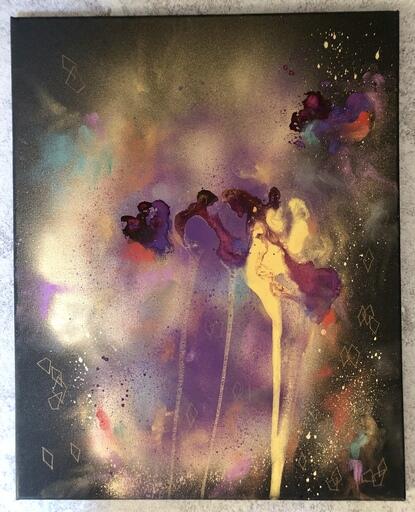 Horsehead, inspired by the Horsehead Nebula, 16" x 20", part of the Dying Star series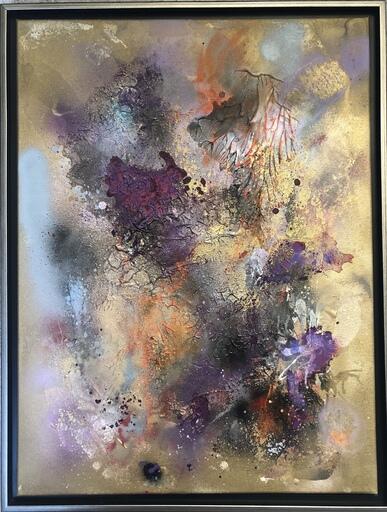 Tangerine, 19.5" x 25.5" (framed)
5. Lastly, selected works are now for sale on my website! If you see a PayPal "Buy Now" button on a page, the piece is for sale. Please email me directly if you have any questions about purchasing.
Art Reception This Thursday, Plus Sales and New Pieces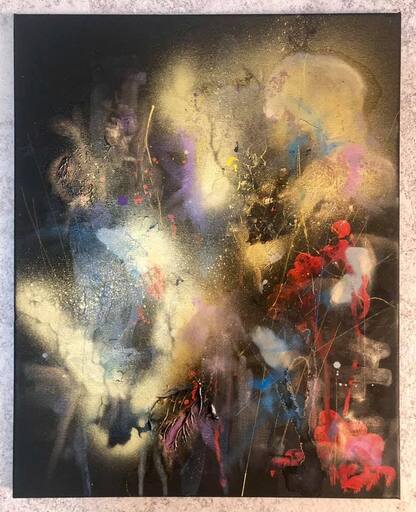 I recently finished two new pieces: one titled Heartbreaker (above), which is part of the Dying Star series, and the other titled The Haze of July Flowers. Enjoy!
The Haze of July Flowers
Also, the reception for the art exhibition I'm participating in through August 31 in Amherst, MA, is this coming Thursday, August 1. Click here to view the info.
Also, I recently sold two pieces: Poppies, part of the Dying Star series, which you can see hanging in its new owner's home below; and Albumin, which is currently hanging at Gallery A3 in Amherst, MA.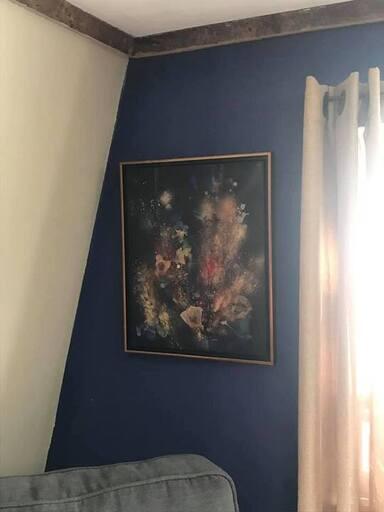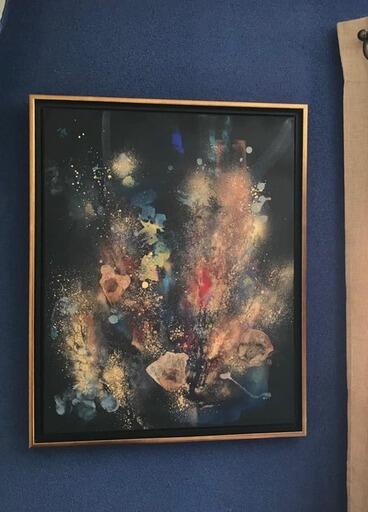 Carry on with summer!
New Piece: Nebulous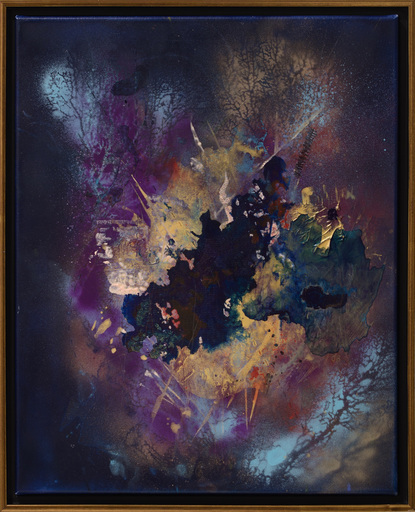 I just finished this new piece, and it's already spoken for!

Information: Title: Nebulous; size: 16" x 20"; media: acrylic paint, acrylic ink, spray paint, watercolor, gouache, eyeshadow, pastels, colored pencils, and thread
Artistic Roots, NEW: Teaching Class on Collage, & Link to Gallery A3 Art Reception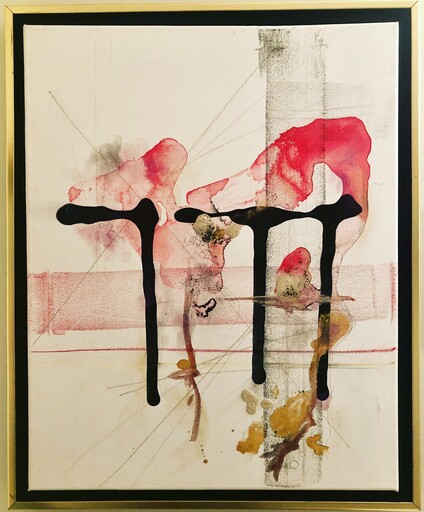 Three updates:
I will be exhibiting as a full-time member of the artists' coop Artistic Roots in Plymouth, NH, as of August 1! I am thrilled about this opportunity, especially as I may actually get to teach some classes (most likely on the topic of collage). This is really a dream come true for me, and it should also hopefully open the door there to more abstract artists.
I am teaching a class on collage at Artistic Roots on Friday, August 16, from 10:30 a.m. to noon. For more details and/or to sign up, click here.
The reception for the exhibition titled Sky Bowl at Gallery A3 that I'll be participating in through August is Thursday, August 1, from 5 to 8 p.m. (click here for the Facebook event and to RSVP). The gallery is located in Amherst, MA. Please stop by if you are in the area! And if you aren't available that night, my painting Albumin (above) will be hanging in the show there through August.
Art News! (New Pieces, Wellness Exhibition Photos, Et Al.)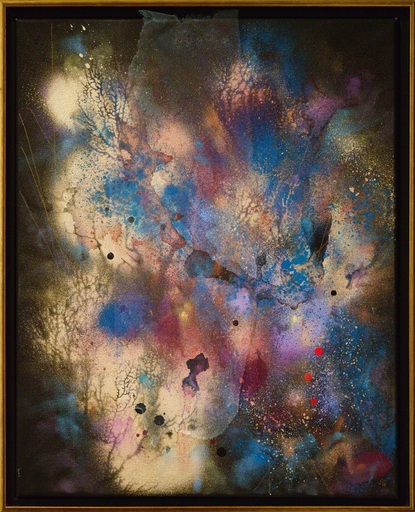 It's been a very busy and fruitful couple of months for me! Long paragraphs make me tired, so here are the bullet points:
Thanks for reading, and more news soon!
Exhibition Now Up at Wellness at Villageworks; plus, New Painting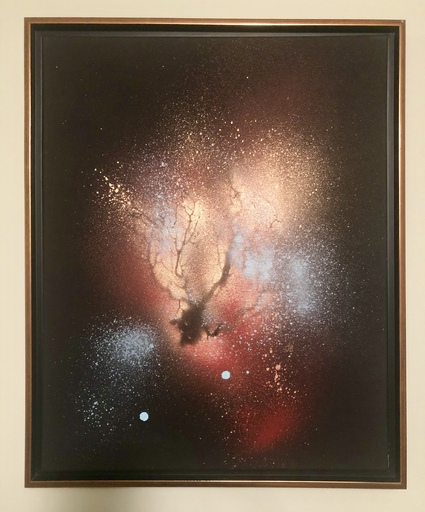 At the beginning of June, I hung an exhibition at Wellness at Villageworks in Acton, MA, titled Awakening. It will be up through August, so stop by if you're in the area!
Also, I just finished and framed a new piece, titled Opus. This painting has already been snatched up by an eager buyer, but I will be making prints, so let me know if you're interested.
New Paintings from April and May 2019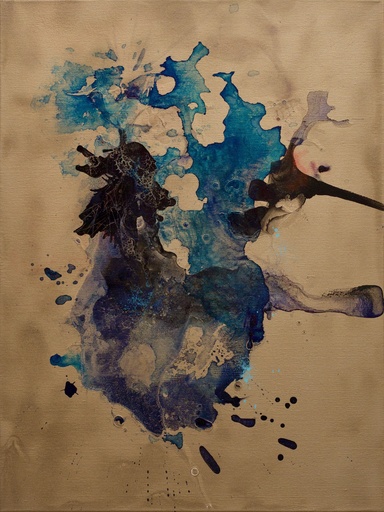 I finished two new pieces in the last couple of months: Feast (above) and Golden (below). Both are for sale on Etsy. Enjoy!