About Jess Barnett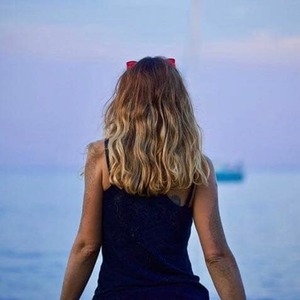 Photo: Raziel Panic
Concord, NH, resident Jess Barnett is a self-taught artist and has been painting since 2004. In the past, she was a member of and teaching artist at Artistic Roots, an artists' coop in Plymouth, NH, and recently had a show titled Awakening hanging in Acton, MA. In addition, selected works are now hanging at HOME by Stamm & Black in Acton, MA; those interested in purchasing can visit the store online or contact them here. She will be displaying an exhibition at 42 Maple Contemporary Art Center in 2020 and in other galleries in the coming year. One of her pieces, O Saisons, O Chateaux, recently hung in the show MIXMASTER @ The Matt 2020 at the Mattatuck Museum in Waterbury, CT.
She counts among her influences the Color Field movement, the region of New England, Japanese minimalist painters, Francis Bacon, Dale Chihuly, Stephen Gammell, Franz Kline, and Andrew Wyeth. In November 2019, Jess began teaching an art class for inmates at the Belknap County Jail in Laconia, NH.
A former member of the Fort Point Artists Community in Boston, Ms. Barnett has exhibited in a variety of locations in Massachusetts and New Hampshire, including the Wellness at Villageworks building in Acton, MA; 6 Bridges Gallery; the Beacon Hill Art Walk; the SoWa Art Walk; Achilles; the FPAC Gallery Art at 12; the Lilypad in Inman Square; Cambridge Common; Bricco; the Harbor Art Gallery; and the Larkin Gallery. Ms. Barnett took lessons in glassblowing at Diablo Glass School in Roxbury, MA, and completed an encaustic wax workshop in Gloucester, MA, in October 2019.
For five years she served as one of two arts editors for Printer's Devil Review, an online literary and arts journal (http://pdrjournal.org). Her work can be viewed at https://jessbarnett.com and on Facebook at http://www.facebook.com/jessbarnettart.
In addition to her work as an artist, Ms. Barnett currently serves as a program assistant at the New Hampshire Public Health Association in Concord, NH, and as a freelance copyeditor for various companies.
Available Art
Certain pieces are available for purchase. If a piece has the "Buy Now" button underneath the description, it's available to buy. All prices include shipping to U.S. addresses (with the exception of Hawaii and Alaska). If you live in either of these states or outside the country, please contact the artist to discuss extra shipping costs. Selected works are now hanging at HOME by Stamm & Black in Acton, MA; those interested in purchasing can visit the store or contact them here.
Studio Tour Available
If you're interested in a studio tour, please email Jess through the Contact page. Jess's studio is located in downtown Concord, NH.