New chapbook by a fellow troubadour...
Thursday, August 28, 2014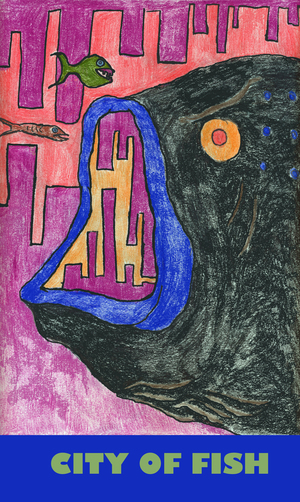 ... the excellent songwriter/singer/artist/poet Chris Way, that is.
The chapbook, featuring Way's poetry and illustrations by Jonah Shore, is almost ready for printing; by late October, copies (PDFs or print) should be ready for sale over at snailcrow.com. Below is an excerpt from an advance copy I received.
Untitled #5
You're on the other side of this fence.
We both run hard, trail our sticks against
the palings,
the noise is ugly and we love it.
I can't see you but sometimes if I jump
I can see a little of your black hair.
You sing something, I can't concentrate on it!
I'm so excited I can only laugh,
and try hard to breathe right.
I know you want the fence to end, but I don't.
Something has to happen, so I stop,
I get some splinters
but I keep trying to climb over,
you laugh and swat my fingers with the stick.
I get angry and kick the fence while in mid-hoist,
your face darkens, you throw the stick at my face,
you run.
I sit here by the fence and try to bite out splinters.
I've never felt so happy.